Happy Saturday everyone!
Don't forget to SPRING FORWARD this weekend.
(I really HATE losing that hour of sleep but I am so glad that spring is right around the corner.)

So, what's up this weekend?

Blessings Abound is celebrating a special birthday...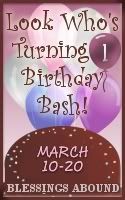 3 Garnets and 2 Sapphires has a blogoversary coming up!
Join A Novel Mind for their GRAND OPENING
*click on banners*
Featured giveaways
:
La Dee Dah Art giveaway
from The Gift Closet
Epic Cleaning Products giveaway
from Katydid and Kid
Vinca Lips leather wallet
giveaway from The Giveaway
If you have something special going on or a giveaway that you would like for us to visit please leave your link on Mr. Linky below.