I know that I usually post these on Saturday but these "happenings" just can't wait until then....
(Are the . . . .'s getting on your nerves yet? Sorry! I can not help myself)
Second: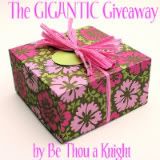 There are some AWESOME prizes to be won. All $$ raised will go towards their infertility treatments. (Insurance is not covering all of it and you can only imagine how expensive it is.)
Let's help them reach their goal and hopefully we will get to see them welcome an itty bitty baby into this world. How exciting!!
*
And last but certainly not least....
*Another giveaway ALERT*
It involves handbags and books, what a great combo!!

Sak's "Book in a Bag" giveaway is being held through April 15th. Click HERE for a chance to win a Cambria Medium Round Tote in Beach Stripe and 4 books from Harper Collins .
* The Scent of Sake, The Ladies Lending Library, The Miracles of Prato and A Dangerous Affair*
I can just picture taking this bag to the beach and reading one of these books while relaxing!
:Sigh:
Dreams