Hello lovely readers (Yes, all 4 of you!)

Check out these happenings that are going on in the big ole blog-o-sphere and then sit back and enjoy your weekend.
I am headed to a little Mother/Daughter tea party with the big girl. We will probably be dining on itty bitty sandwiches and sipping very hot tea in fancy schmancy tea cups which means.....
McDonalds on the way home for SECOND LUNCH.
(I even have the whole pinkie finger thing down now.)
You did know that you are supposed to hold the tea cup a certain way, right? Always make sure the pinkie finger is in an upright position.
I've got skillz.
MAD TEA PARTY SKILLZ!
**
There's a blog party going on in honor of
Tuesday
. Tuesday lost her 8 month battle with neuroblastoma in January and there will be an auction going on with proceeds to benefit The Tuesday Fiona Whitt Foundation.
*click the banner below for more information*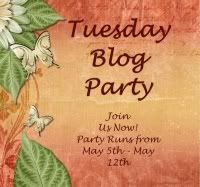 Mom Dot's birthday bash
has officially started. Be sure to visit her blog everyday this month for a different giveaway and blog feature.
I will be posting my birthday giveaway on May 4th. So be sure to stop by for some goodies!!
~Don't forget to check out these
awesome bloggy carnivals
beginning on Monday.~
It's your turn....
If you have a giveaway going on please leave it on Mr. Linky so we can visit.
~~