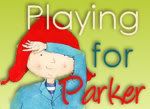 Play games and help sweet Parker all at the same time.
5 Minutes for Mom
writes:
Parker's list of medical challenges seems endless, as do his list of medical bills. (His parents have insurance, but that only covers some of the costs.)
And again Parker is in the hospital.
So often we read about children like Parker and think we wish we could help. But this time we can help in a simple way.
We've created a games page where the advertising revenue earned while the games are being played will go to Parker. It's not much… but every penny counts, right?
Spread the word. Visit 5 Minutes for Mom and grab the "Playing for Parker" banner. Display it on your blog and let's PLAY FOR PARKER!