Alrighty guys, I know I am slacking in the "comment department" this week. I promise to get caught up though....PROMISE!
You see, between doctor's offices and hospitals: I AM POOP---ED!
me-Doctor appointments
my grandmother-surgery
(She had one of her legs amputated so she will be in the hospital for awhile.)
All is well though! She is a tough 91 year old woman.
Enough about me . . .
On to
SAY IT FOWARD FRIDAY
!!

I am going to feature:
Hyla
You can find Hyla blogging over at
Green Earth Journey
.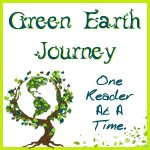 Hyla's blog posts are all EARTH FRIENDLY. She also reviews some
wonderful eco-friendly products
and hosts
giveaways
from time to time.
Hyla is also expecting a sweet lil baby. (AWW!)
So, head over and check out Hyla's blog,
Green Earth Journey
.
Tell her that I sent ya!